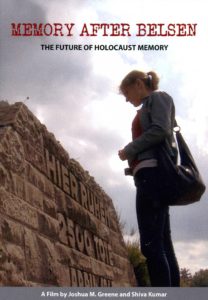 Holocaust documentaries have, for the most part, examined the actions of the perpetrators and what happened to the victims. Little attention has been paid to how memory of the Holocaust is being transmitted through the generations, in art, film and other media, and what it will look like in the future, now that the eyewitness generation is all but gone.
Memory After Belsen does not attempt to explain the historic Holocaust. Rather, the film is about themes and tensions in Holocaust memory—the challenges and often conflicting perspectives on how the Holocaust is taught and remembered.
Memory After Belsen tells the story of thirty-year-old Robyn Thaler Hickey, who travels to Bergen-Belsen where she learns details about her grandmother's experiences during and after World War II. As Robyn learns about her grandmother's history, viewers confront issues central to Holocaust memory.
It took five years to complete Memory After Belsen, in large measure because the subject had not been explored previously in film and there were no existing road-maps to follow.
The film examines ways in which memory is conveyed by different agents—survivors, their children and grandchildren, artists, educators, museum directors and others—and asks how these agents of Holocaust memory approach their task, and for what purpose. Do they seek historic accuracy? Emotional impact? Contemporary relevance?
Where does personal memory find its place in this web of associations?
Memory After Belsen investigates changes occurring within Holocaust memory, now that the survivor generation is aging and in fact rapidly diminishing.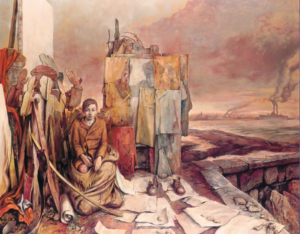 The 76 minute film is divided into 7 sections that lend themselves to a deep understanding and exploration of the subject and subsequently provide discussion topics for viewers. The 7 sections are:
Introduction (14 minutes)
Liberation, Displaced Persons Camp, Rebirth (11 minutes)
Israel and Emigration (12 minutes)
Children of Survivors and other Agents of Memory (11 minutes)
Teaching the Holocaust (9 minutes)
Holocaust and the Arts (9 minutes)
The Future of Holocaust Memory (9 minutes)
"HIGHLY RECOMMENDED" – Hagit Lavsky, Holocaust Studies, The Hebrew University of Jerusalem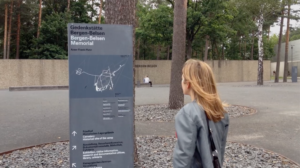 According to the American Library Association Booklist in a "starred review"…
"Beyond capturing World War II history, including the British liberation of Bergen-Belsen in 1945, the film explores way personal Holocaust stories are remembered and passed to future generations. Interviews with historians, educators, authors, artists and others underscore this profoundly moving documentary which finds new and bracing ways to tackle an important and far reaching subject".
Within the Context of the Film, Discussion Points are Many. Below are just a few examples:
Artist and survivor Sam Bak speaks about the Holocaust as something that is "remembered in a hundred different ways." How can this be reconciled with the rigors of historical analysis? Should it be?
Some historians and scholars are uncomfortable with witness testimony. Memory, they say, is selective, imperfect and sometimes invented.
Several speakers in the film talk about the birth of Jewish children in the displaced persons camps. Until recently, this has been a neglected part of post Holocaust history. Why do you think that is?
Phrases such as "rebuilt their lives" and "the rebirth of Jewish culture" could be understood as clichés. Might such clichés be a way of avoiding the harsh realities which survivors never escape?
What was the reception for survivors in countries where they were eventually received?
Who and what are "agents of memory" and what is their role in representing and transmitting the history and memory of the Holocaust? Discuss at least three.
What does Geoffrey Hartmann mean when he states, "Every generation will have to re-educate themselves about the Holocaust. It cannot be the work only of one generation?"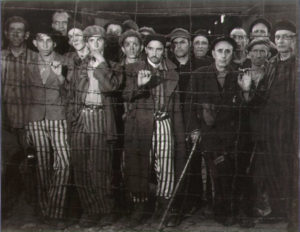 The credentialed list of participants in the film are too numerous to mention. Below is a partial list:
Mel Brooks, comedian, director
Lawrence L. Langer, Professor Emeritus, Simmons College
Melvin Bukiet, Professor, Sarah Lawrence College
Samuel Bak, survivor, artist
Marianne Hirsch, Professor, English and Comparative Literature, Columbia University
Dustin Stein, General Counsel, David Benrimon Fine Art LLC, Holocaust art recovery attorney
Elaine Culbertson, Director, Holocaust and Jewish Resistance Teachers Program
David Marwell, director, Museum of Jewish Heritage, New York
Tracy Garrison-Feinberg, Director, Claire Friedlander Educational Institute
Dr. Habbo Knoch, Director, Bergen-Belsen Memorial
Dr. Thomas Rahe, Head of Research and Documentation, Bergen-Belsen Memorial
Prof. Geoffrey Hartman, Yale University
Menachem Rosensaft, General Counsel, World Jewish Congress
Sam Bloch, President, World Federation of Bergen-Belsen Associations
Colin Albert, British Army historian
MEMORY AFTER BELSEN was made in cooperation with:
Chaim and Sarah Neuberger Holocaust Education Centre of the United Jewish Appeal of Toronto
Conference on Jewish Material Claims Against Germany
World Federation of Bergen-Belsen Associations, Bergen-Belsen Memorial Museum and
Museum of Jewish Heritage: A Living Memorial to the Holocaust
2015 / 76 minutes / Color and B/W / Directed by Shiva Kumar, and Written and Produced by Joshua Greene
WATCH THE ORIGINAL TRAILER

WATCH THE UPDATED/EXTENDED TRAILER