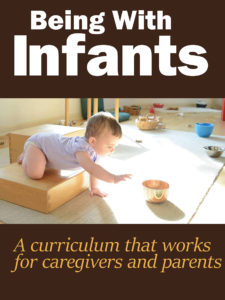 This one-of-a-kind multi-chaptered video training series gives early childhood providers, educators and parents direct access to a comprehensive care approach from renowned author and infant/child specialist and Montessori teacher trainer, Beverly Kovach. Kovach is certified in MACTE (0-3), and Pikler® and Resources for Infant Educators (RIE®).
Pulling from the "best-of-the-best" in her work in Early Childhood Education & Development, Kovach has developed a unique model that includes and advances the theories of Dr. Maria Montessori, Dr. Emmi Pikler, Magda Gerber & others allowing providers and trainers support in putting theory into daily practice.
The series in broken into easy-to-digest chapters permitting learning step by step.
Philosophy
Caregiver Curriculum
Bottle Feeding
Diapering Part 1
Diapering Part 2
Hands
Caregiving Routines
Quality Time
Motor Movement
Authenticity
Basic Principles
Weaning Feeding
Solid Feeding
Crying
Sleep
Lap Solids Feeding
Lap Bottle Feeding
Play
Observation
Environment
2016 / 215 minutes (3 discs) / A film series by Jared Noe / Produced by Blu de Golyer and Jared Noe
HOW TO ORDER:
Public Performance and Digital Site Licenses are available through Soundview Media Partners. To inquire or to place an order, write to info@soundviewmediapartners.com or simply choose from the options below:
For group screening prices, please inquire.
In-home/personal use copies are available on Amazon: https://amzn.to/2MOc3wC
Prefer to stream or download? Individual episodes or the entire series can be digitally experienced on Amazon as well: https://amzn.to/2zTKkr5
WATCH THE TRAILER