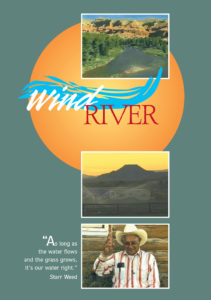 "As long as the water flows and the grass grows, it's our water right" – Star Weed, Shoshone Tribal Elder
From the director of Libby, Montana, comes WIND RIVER, a modern-day story of cowboys and Indians.
White ranchers on the Wind River Indian Reservation in central Wyoming have been fighting to protect their long-held water rights for irrigated agriculture. The Shoshone and Northern Arapaho tribes have been fighting to save the de-watered Wind River and a part of their own heritage.
This story is a classic example of the changing face of the West, as environmentalists and Indian activists use the courts in an attempt to curtail some of the traditional, but harmful, practices of white ranchers and farmers.
"Tells a compelling story that extends far beyond questions of water rights." – Stuart Lieberman, Environmental Attorney
""A taut and impassioned chronicle of a high stakes water-rights fiasco in Wyoming." – Timothy McGettigan, Professor of Sociology, University of Southern Colorado
"The video is thought provoking and will be an excellent resource for teachers. It is highly recommended for all high school and public libraries." – Barbara Butler, Oregon Institute of Marine Biology, MC Journal
A film by Drury Gunn Carr
66 minutes / color / 2000
HOW TO ORDER:
Public Performance and Digital Site Licenses are available through Soundview Media Partners. To inquire or to place an order, write to info@soundviewmediapartners.com or simply choose from the options below:
For group screening prices, please inquire.
WATCH THE TRAILER