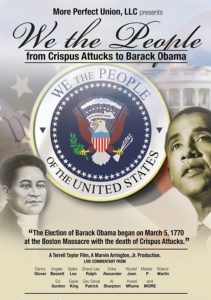 The election of President Barack Obama began on March 5, 1770, at the Boston Massacre with the death of Crispus Attucks…
We the People: From Crispus Attucks to Barack Obama takes a close look at the progression of America as she frees herself from Britain, battles slavery and finally culminates in the election of the first African American President.
Touching upon many of the sacrifices African Americans have made to pave the way from slave ships to Obama's arrival at 1600 Pennsylvania Avenue, the film provides an historical perspective.
Features commentary from Spike Lee, Al Sharpton, Gayle King, Wyclef Jean and more.
"[A] chronicle of some of the unsung accomplishments of African Americans over the centuries." – Marvin Harrington, Jr. 
90 minutes on 1 disc
HOW TO ORDER:
Public Performance and Digital Site Licenses are available through Soundview Media Partners. To inquire or to place an order, write to info@soundviewmediapartners.com or simply choose from the options below:
For group screening prices, please inquire.
In-home/personal use copies are available on Amazon: http://amzn.to/2qIPIsF
WATCH THE TRAILER