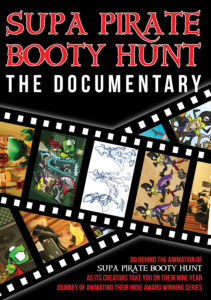 Who hasn't dreamed of making their independent production a raging success? This documentary is a glorious look at how two young creators turned their idea into a bankable asset. 
Follow the journey of Captain Zack Stevers and Daniel the Turtle from the award winning animated series. See how their pirate journey reached the screen in Supa Pirate Booty Hunt the Documentary.
Animation, creation, promotion and advertising combined for success and this documentary that follows the 9-yr. journey taking you behind the scenes of the indie award winning film Supa Pirate Booty Hunt.
How was it conceived, produced, assembled and distributed are all included in this wondrous documentary.  
Creators Steve Sievers and Dahveed Kolodny-Nagy show you how they pulled off the amazing feat, and the film offers the treasure of never seen before artwork and animation that is exclusive to the documentary. See Daniel the Turtle comes to life as a man dressed in a giant Turtle suit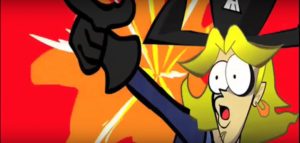 who causes chaos every where he goes delivering his message that "you can be a pirate too".
Supa Pirate Booty Hunt was the creation of Dahveed from Smorgasboard Productions & Steve Sievers from Level 27 Media. The hit series follows the hilarious adventures of Captain Zack Stevers and his sidekick Daniel the turtle as they travel the seven seas in search of what else…booty! The unique promotions deployed by the creators include that the film is now working for the non-profit Music Saves Lives; an organization that encourages young adults to donate blood. The award winning animation was turned into a Comic Book with 10,000 printed and distributed on every date of the Vans Warped Tour, San Diego comic-con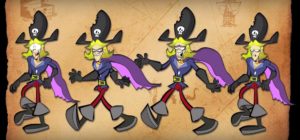 (including panel), & blood centers through out the country.
Supa Pirate Booty Hunt the Documentary is a chronicle of how two independent filmmakers took a crazy idea, applied out of the ordinary marketing and found success. A perfect inside look for student of independent film production and animation.
90 minutes / Color / A 2013 production directed by Steven Sievers.
HOW TO ORDER:
Public Performance and Digital Site Licenses are available through Soundview Media Partners. To inquire or to place an order, write to info@soundviewmediapartners.com or simply choose from the options below:
For group screening prices, please inquire.
In-home/personal use copies are available on Amazon: http://amzn.to/2tOAW2e
WATCH THE TRAILER