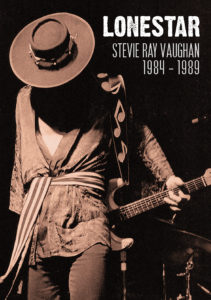 Stephen Ray Vaughan (October 3, 1954 – August 27, 1990) was an American musician, singer, songwriter, and record producer born in Dallas, TX. In spite of a short-lived mainstream career spanning seven years, he was an influential guitarist, and one of the most important figures in the revival of blues in the 1980s. AllMusic describes him as "a rocking powerhouse of a guitarist who gave blues a burst of momentum in the '80s, with influence still felt long after his tragic death."
In the mid-1970s, when Stevie Ray Vaughan first emerged as a modern blues guitarist with unparalleled ability and passion – skills which distinguished his playing from that of just about all his contemporaries – the blues world he represented had little impact in the mainstream market place. So despite his obvious gifts, he struggled to secure a record deal. By the time his debut album, 1983's Texas Flood, was finally released, the tide had turned and Stevie Ray not only became an international phenomenon, but was also of paramount importance in the revitalization of the blues genre.
This film traces and reveals the full and previously untold story of Stevie Ray Vaughan's glory years, the period between the release of his debut album and his tragic death in a helicopter crash in 1989.
Featuring; rare film footage, exclusive interviews with many close friends and confidantes, contributions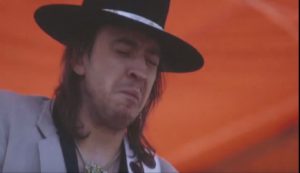 from the industry professionals and music writers who documented his career as it unfolded, seldom seen photographs and numerous other features, which together make this program the finest documentary yet on the personal life and career of Stevie Ray during his most fertile and productive era.
"Delivers in 108 minutes a rollercoaster of emotions about Texas' beloved late blues guitarist" – Elmore Magazine
Vaughan received several music awards during his lifetime and posthumously.
In 1983, readers of Guitar Player voted him Best New Talent and Best Electric Blues Guitar Player.
In 1984, The Blues Foundation named him Entertainer of the Year and Blues Instrumentalist of the Year.
In 1987, Performance Magazine honored him with Rhythm and Blues Act of the Year.
Vaughan earned six Grammy Awards and ten Austin Music Awards,
He was inducted into the Blues Hall of Fame in 2000, and the Musicians Hall of Fame in 2014.
Rolling Stone ranked Vaughan as the twelfth greatest guitarist of all time.
In 2015, he was inducted into the Rock and Roll Hall of Fame.
108 minutes on 1 disc / 2017
HOW TO ORDER:
Public Performance and Digital Site Licenses are available through Soundview Media Partners. To inquire or to place an order, write to info@soundviewmediapartners.com or simply choose from the options below:
For group screening prices, please inquire.
In-home/personal use copies are available on Amazon: http://amzn.to/2svQax7
WATCH THE 6 MINUTE TRAILER