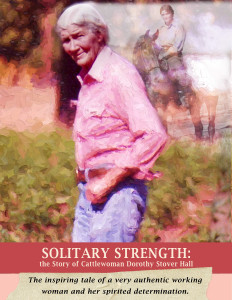 At the height of the Great Depression Dorothy Stover Hall saved her paycheck and at the age of 26 bought a 130 acre ranch.
The American West, Sustainability and Women's History combine in a tale of the spirited determination of one working woman who spent her life going against the grain. Her legacy is one of confidence, integrity and self-contained dignity.
Dorothy Stover Hall, born in 1910 in the high country of the Sierra Nevada foothills of Northern California, was the grand child of legendary pioneer families who were among the first cattle ranching families of the West.
SOLITARY STRENGTH: The Story of Cattlewoman Dorothy Stover Hall is the tale of a very authentic working woman and her spirited determination.
This beautifully produced historical documentary will appeal to audiences that love stories of the American West, Women's Studies and Sustainability.
"Filmmaker Trudy Duisenberg's graceful and inspiring documentary tells the story of a 20th-century original, a go-it-alone California rancher named Dorothy Stover Hall, who eschewed postwar, middle-class norms to live life on her own terms. Born in 1910 to a ranching family in the high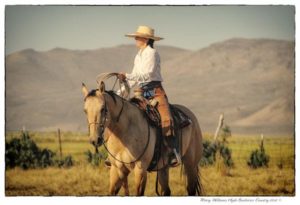 country of the Sierra Nevada foothills, Hall learned everything there was to know about running such an operation, from good stewardship of the land to caring for the animals to managing a lengthy cattle run. After graduating college at California State University, Chico, and working a couple of years in the probation field, Hall purchased a 130-acre ranch and set about the many daily and seasonal tasks involved in keeping it successful. A brief marriage left her with twin daughters to raise alone; one shares often-delightful stories of being taught fearless independence and how to live close to the earth. Duisenberg has done an exceptional job of compiling and organizing archival materials that help underscore the character and uniqueness of Hall (who died in 1982). Other interviewees include a handful of folks who knew her and sometimes worked for her, as well as a librarian who speaks of cowgirl Hall's fondness for—of course—Louis L'Amour Western novels. Recommended."– Video Librarian
"SOLITARY STRENGTH: the Story of Cattlewoman Dorothy Stover Hall describes a time period that is long gone, but the message it delivers to the viewer is as timeless as the fields Ms. Stover Hall's cattle grazed upon.  Ms. Stover Hall's intellect, self-determination, integrity, and strong sense of intrinsic values are secondary attributes as compared to the philosophy she bestowed upon her daughters of "never quitting" regardless of the obstacles life places upon one's path. SOLITARY STRENGTH: the story of Cattlewoman Dorothy Stover Hall is one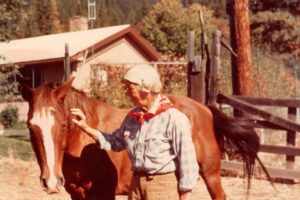 that must be shared with students and adults alike.  The theme of the story is universal and one that is relevant to all generations." – Gerald Macaluso, Retired School Superintendent, Seneca Falls Central School District, New York
"This documentary makes a handsome and winning addition to the body of folk life narratives of unique working women in recent and historic American experiences in the West.  As a scholar and author of essays, chapters, and book-length studies using archival, documentary, and field work on the American experience, I especially admire the depth and difficulty of this producer's research in amassing of family photos, newspaper clips, anecdotes, biographical materials and extensive interviews with those who knew Dorothy Hall.  Trudy Duisenberg has skillfully woven all of it together seamlessly – along with evocative photography and specially composed music – into a story of larger economic and gender givens in America. For students, Dorothy's life story serves as a double sort of inspiration:  both at the classroom level as a model to imitate in creating folk life documentary stories for projects of their own, and also as a model for themselves of maturity and self-reliance." – David Scofield Wilson, Senior Lecturer Emeritus, American Studies, University of California at Davis
"Dorothy Stover Hall had the beauty and brains that could have afforded her an easy, opulent life, but instead she chose to follow an unconventional path and pursue her passion – ranching.  Her strength of character and purpose resulted in an admirable life and one truly worth remembering!  What a wonderful story, great photography and music." – Valerie Coe, Cowgirl/Artist, Alturas, California
51 minutes / Color and Black & White / English  / A film by Trudy Duisenberg / 2016
HOW TO ORDER:
Public Performance and Digital Site Licenses are available through Soundview Media Partners. To inquire or to place an order, write to info@soundviewmediapartners.com or simply choose from the options below:
For group screening prices, please inquire.
IN HOME/PERSONAL USE COPIES AVAILABLE ON AMAZON: http://amzn.to/2pFWi46
WATCH THE TRAILER