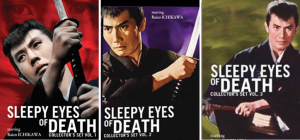 Sleepy Eyes of Death is one of the longest-running (12 films) and best-loved samurai series of all time. The series of productions began in 1963 with the last of the installments produced in 1969.
The Soundview collection offers the entire series broken into 3 volumes (1, 2, 3) or as the complete 12 film collection. Each volume contains 4 films. Together they are presented in chronological order.
Nemuri Kyoshirō (眠 狂四郎) is a series of jidaigeki novels written by Renzaburo Shibata. The stories were originally serialized beginning in May 1956 in the Shūkan Shinchō.
The stories take place during Edo period under the Tokugawa shogunate and the rules of Tokugawa Ienari and his successor Tokugawa Ieyoshi and center on the title character, a sleepy-eyed rōnin or outlaw swordsman who is the son of a Japanese mother (the daughter of a daimyo, who commits jigaki [see "Female Ritual Suicide" in Seppuku] some time after Kyoshiro's birth) and a foreign father, and who was conceived during a Black Mass (and as a result has a fierce hatred for what he considers the hypocrisy of Christianity).
Raizo Ichikawa (who sadly died at the age of 37) masterfully portrays Nemuri Kyoshiro, "the son of the Black Mass," a half-breed warrior in search of a perfect death, driven by his disdain for Christianity and for the society in which he lives. Like all of Samurai Cinema's releases, Sleepy Eyes of Death is uncut, unedited, and presented in the original theatrical aspect ratio.
"Ichikawa Raizo brings such a bizarre and unlikely effeminate charisma to his misogynistic ronin that the films are always interesting and this set comes highly recommended" — DVD Talk
"Sleepy Eyes of Death, where have you been hiding all my samurai loving life?" — EuroCultAV
"As with their other films, AnimEigo has subtitles that explain briefly some of the historical or cultural references spoken of by the characters, with more extensive notes as part of the supplements" — Coffee, Coffee…
"The Sleepy Eyes of Death film series is legendary, albeit hard to locate." — Cinegeek
"Raizo Ichikawa is a terrific lead whose introduction to the Sleepy Eyes of Death is a portent of the great things this franchise has to come" — FilmSmash
"Kyoshiro breaks all the conventions of traditional cinematic samurai and does so in a way that will have you clamoring for the next four films in the series." — Film Fanaddict
998 minutes (complete collection). Individual run times of the volumes are listed below).
Japanese with English sub-titles
The individual films contained within the series are:
Sleepy Eyes of Death 1: The Chinese Jade (1963)

Nemuri Kyōshirō 1: Sappocho (Enter Kyoshiro Nemuri, the Swordsman)

Sleepy Eyes of Death 2: Sword of Adventure (1964)

'Nemuri Kyōshirō 2: Shōbu (Adventure of Kyoshiro Nemuri)

Sleepy Eyes of Death 3: Full Circle Killing (1964)

Nemuri Kyōshirō 3: Engetsugiri (Exploits of Kyoshiro Nemuri)

Sleepy Eyes of Death 4: Sword of Seduction (1964)

Nemuri Kyōshirō 4: Joyoken (Kyoshiro Nemuri at Bay)

Sleepy Eyes of Death 5: Sword of Fire (1965)

Nemuri Kyōshirō 5: Enjo-ken (The Swordman and the Pirate)

Sleepy Eyes of Death 6: Sword of Satan (1965)

Nemuri Kyōshirō 6: Masho-ken (The Mysterious Sword of Kyoshiro)

Sleepy Eyes of Death 7: The Mask of the Princess (1966)

Nemuri Kyōshirō 7: Tajo-ken (The Mask of the Princess)

Sleepy Eyes of Death 8: Sword of Villainy (1966)

Nemuri Kyōshirō 8: Burai-ken (The Sword That Saved Edo)

Sleepy Eyes of Death 9: A Trail of Traps (1967)

Nemuri Kyōshirō 9: Burai-Hikae masho no hada (The Trail of Traps)

Sleepy Eyes of Death 10: Hell Is a Woman (1968)

Nemuri Kyōshirō 10: Onna jigoku (The Ronin Called Nemuri)

Sleepy Eyes of Death 11: In the Spider's Lair (1968)

Nemuri Kyōshirō 11: Hito hada kumo (The Human Tarantula)

Sleepy Eyes of Death 12: Castle Menagerie (1969)

Nemuri Kyōshirō 12: Akujo-gari (Castle Menagerie)
HOW TO ORDER:
Public Performance and Digital Site Licenses are available through Soundview Media Partners. To inquire or to place an order, write to info@soundviewmediapartners.com or simply choose from the options below:
Sleepy Eyes of Death Volume 1 (4 discs / 4 films / 338 minutes)
Sleepy Eyes of Death Volume 2 (4 discs / 4 films / 331 minutes)
For group screening prices, please inquire.

WATCH THE TRAILER FROM THE FIRST FILM