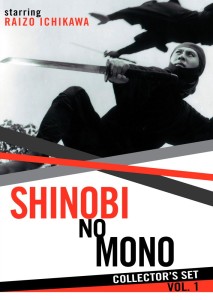 The first four Shinobi no Mono films, starring the legendary ICHIKAWA Raizo,  in one special box set collector's set!
Starring Raizo Ichikawa, one of the biggest stars in Japanese film history, the series launched the first ninja boom in Japan.
The set contains all 4 dynamic historical epics, and features realistic ninja techniques & details of Samurai / Ninja society.
Considered by many critics to be the best and most realistic films about the ninja, the Shinobi no Mono saga spans the turbulent years of 1573-1615 and tells the story of the ninja who lurked behind the scenes while warlords strived for power. In one of his most famous performances, the iconic Raizo ICHIKAWA portrays two famous ninja (ISHIKAWA Goemon and KIRIGAKURE Saizo), each one with his own agenda, each one with a dark past and no certain future.
"Considered by many Japanese film aficionados to be the first true ninja film, Satsuo Yamamoto's 1962 black-and-white Shinobi No Mono is quite different from the cheesy 1980 martial arts quickies that brought the ninja figure into American culture. Recommended" – Video Librarian
371 minutes on 4 discs / Japanese w/English sub-titles
HOW TO ORDER:
Public Performance and Digital Site Licenses are available through Soundview Media Partners. To inquire or to place an order, write to info@soundviewmediapartners.com or simply choose from the options below:
For group screening prices, please inquire.
In-home/personal use copies are available on Amazon: http://amzn.to/2dN9Od4
WATCH THE TRAILER