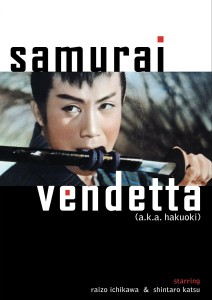 The classic directed by Kazuo Mori and starring Raizô Ichikawa, Shintarô Katsu
Samurai Vendetta is a tragic tale of two honorable swordsmen whose clans are embroiled in a blood feud, and who vie for the same woman. Betrayal, dishonor and death ensue in this classic samurai story of love and revenge.
Samurai Vendetta (薄桜記 Hakuōki) is a 1959 Japanese chambara film directed by Kazuo Mori starring Raizo Ichikawa and Shintaro Katsu that was originally released by Daiei Film. It is a depiction of the early years of the samurai Horibe Yasubei, who was one of the Forty-seven Ronin.
The film is also known as Chronicle of Pale Cherry Blossoms, a poetic reference to the Forty-Seven Ronin
109 minutes on 1 disc / Japanese with English sub-titles
HOW TO ORDER:
Public Performance and Digital Site Licenses are available through Soundview Media Partners. To inquire or to place an order, write to info@soundviewmediapartners.com or simply choose from the options below:
For group screening prices, please inquire.
In-home/personal use copies are available on Amazon: http://amzn.to/2dNp35z
Watch the trailer