THINK WHILE YOU CAN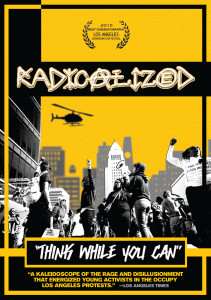 Radicalized is a revolutionary film about the new season of political resistance in Los Angeles. It is the 'definitive voice of a generation' documentary film, crafted from thousands of hours of footage shot over a 3 year period.
"A kaleidoscope of the rage and disillusionment that energized young activists in the occupy Los Angeles protests" – Los Angeles Times
Ideology meets reality and collides with the powers that be as articulated through the inner voices and external lives of a millennial anarchist collective near downtown L.A. This film opens an intimate window into this emerging consciousness in the gritty incubator of the collective's apartment, where 15 people deconstruct the present to create a better future. All have given up a lot to participate in the movement; personal space, jobs, education, family and "old-world" friends. Targeted by law enforcement, repeatedly arrested, intimidated and sometimes beaten, only to be further radicalized, this film contains graphic scenes of police violence. Shot over a 3-year period as they organize and engage in a seemingly endless series of political actions, street protests and marches ranging from direct political actions against big banks to the more recent protests against police violence.
Fueled by Occupy Wall Street, the tent encampment at City Hall in October 2011 was the point of departure for the creation of a network of alliances that inspired this new season of resistance in a city with a rich history of political defiance. This feature documentary traces the trajectories of the larger arcs of its main characters as well as the movement as a whole, utilizing direct political actions as tent poles to guide the audience through the story.
Radicalized is a very personal, untold story of the post Occupy millennial resistance.
Winner: 2015 Los Angeles Downtown Film Festival / Best Cinematography
112 minutes on 1 disc
HOW TO ORDER:
Public Performance and Digital Site Licenses are available exclusively through Soundview Media Partners. To inquire or to place an order, write to info@soundviewmediapartners.com or choose from the License Options below:
For group screening prices, please inquire.
In-home/personal use copies are available on Amazon: http://amzn.to/1RbFI43
WATCH THE TRAILER