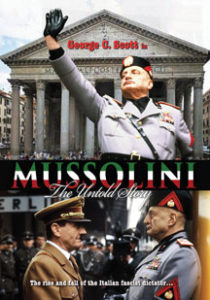 The classic, 1985, star-studded mini-series is being re-issued and becomes available again on 10/17/17!
The rise and fall of the Italian fascist dictator…He was powerful–arrogant–mesmerizing. He dreamed of a new Roman Empire–and himself as its new emperor.
As Italy's leader he was at first revered…then feared…and ultimately despised. But at the height of his power, the crowd would roar "Il Duce"– and the man who would step forward to receive the accolades was Benito Mussolini.
The series begins in 1922, as Mussolini gathers his power through the use of his Black Shirt militia. Promoting himself as Julius Caesar reincarnate, Il Duce gains a national fervor that peaks after the Italian invasion of Abyssinia (Ethiopia) in 1935. In 1938, Mussolini attempted to promote peace at the Munich Conference. Nonetheless, he aligned himself with Adolf Hitler. Mussolini drew Italy into World War II, which led to his country's decline, Mussolini's fall from power, and eventual roadside execution of Mussolini and Petacci.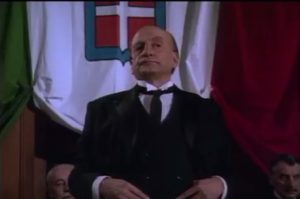 But the head of the country was also the head of a family–a devoted husband, father and godfather. Now the story of that man–a gripping, original NBC miniseries starring superb actor George C. Scott, giving his most magnificent portrayal ever as the infamous dictator……Mussolini.
Directed by William A. Graham.
Starring George C. Scott, Lee Grant, Mary Elizabeth Mastrantonio, Virginia Madsen, Raul Julia, Gabriel Byrne, Robert Downey, Jr., Kenneth Colley, Michael Aldridge, and Gunnar Möller.
Nominated for 2 Primetime Emmys
333 minutes on 2 discs / 1985 / Color / English Language
HOW TO ORDER: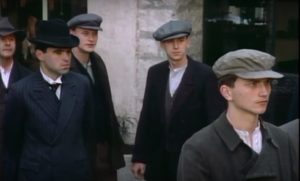 Public Performance and Digital Site Licenses are available through Soundview Media Partners. To inquire or to place an order, write to info@soundviewmediapartners.com or simply choose from the options below:
For group screening prices, please inquire.
In-home/personal use copies are available on Amazon: http://amzn.to/2sC3qjy
Watch the trailer

OTHER RECOMMENDED FILMS FROM THE SOUNDVIEW MILITARY HISTORY COLLECTION INCLUDE: 
Corrie ten Boom: A Faith Undefeated
Visit our entire Military History Collection