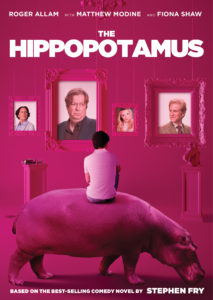 It'll take a miracle to find the truth. "A FUN MYSTERY… BAWDY, RUDE AND TERRIBLY, TERRIBLY ENGLISH…" – Total Film
Based on the Best-Selling Comedy Novel by Stephen Fry who after seeing the film stated:
"FRANKLY TERRIFIC! IN FACT, PROBABLY BETTER
THAN THE ORIGINAL SOURCE MATERIAL."
"A towering, at times monumentally good central performance from the character actor Roger Allam stands at the heart of The Hippopotamus" – The Times (UK)
"A smart and intelligently written picture" – UK Film Review
"…puts itself forward as a faintly fantastical mystery, but emerges something so much more – serving best as a slick, refined and riotous comedy at the heart of the British upper crust." – On Screen
"The Hippopotamus boasts sumptuous locations and attractive costumes, and Allam's robust turn as a version of Hercule Poirot who always has a bottle of single malt Scotch at the ready makes this well worth watching. Recommended."- Video Librarian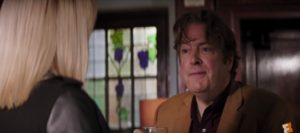 THE HIPPOPOTAMUS tells the story of disgraced poet Ted Wallace (Roger Allam) who is summoned to Swafford Hall, the country manor of his friends Lord and Lady Logan (Matthew Modine and Fiona Shaw), to investigate a series of unexplained miracle healings. Fired from his job as a theater critic, Wallace jumps on the opportunity to lay low for a while at his friends' country manor. The series of miracle healings have recently occurred and Ted tracks down the perpetrator of the phenomena, teenager David Logan, whose parents believe has healing hands.
Features an all-star cast: Roger Allam (The Book Thief), Matthew Modine (The Dark Knight Rises, Full Metal Jacket), Fiona Shaw (Harry Potter), Russell Tovey (The History Boys), Emily Berrington (The Inbetweeners 2, Grabbers)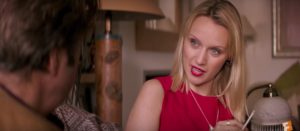 Written by Blanche McIntyre and Tom Hodgson
Directed by John Jencks (The Fold, Go Away Please, The End of the Line)
Produced by Jay Taylor and Alexa Seligman
ABOUT AUTHOR, STEPHEN FRY
Famously embarrassed to be described as one of Britain's "national treasures," Stephen Fry is a writer, actor, comedian and activist. His career began with the broadcasting of the Cambridge Footlights Revue (1981), which he wrote with friends including Hugh Laurie and Emma Thompson. His work as an actor spans three decades and includes such films as A Fish Called Wanda, Gosford Park, Tristram Shandy: A Cock and Bull Story and The Hobbit: The Desolation of Smaug. He can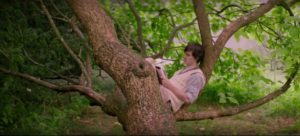 currently be seen in the CBS primetime comedy series The Great Indoors. Stephen is a beloved broadcaster, his Twitter account is followed by 10.5 million people, and his many books have become international best-sellers. The Hippopotamus alone has sold over 11 million copies worldwide and has been translated into 15 languages.
89 minutes on 1 disc / 2016 production / 16×9
HOW TO ORDER:
Available as DVD w/PPR, Bluray w/PPR and digitally.
Public Performance and Digital Site Licenses are available through Soundview Media Partners. To inquire or to place an order, write to info@soundviewmediapartners.com or simply choose from the options below:
For group screening prices, please inquire.
In-home/personal use copies are available on Amazon… DVD at http://amzn.to/2v3Ddvu and Bluray at http://amzn.to/2vWcIa5
Watch the trailer