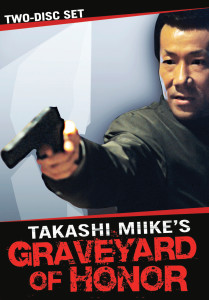 The Takashi Miike 2002 re-imagining of the 1975 Kinji Fukasaku classic…
Rikuo Ishimatsu is a lowly dishwasher who unknowingly saves the life of a Yakuza Oyabun (Boss) and quickly rises to a position of power in his gang. Loyally supporting his Oyabun and his brother gangsters, Ishimatsu wreaks havoc on anyone who stands in their way, inevitably earning himself a trip to the slammer.
"With Graveyard of Honor Miike delivers another intense and violent crime drama, which is at the same time a fascinating character study and a confronting social document. In its portrayal of one man's self-destruction, the film takes the violent core of the yakuza genre as far as it will go, redefining its limits much like Fukasaku's film did in the mid-70s. Unlike Ichi the Killer (Koroshiya Ichi, 2001) there are no comic book moments of outrageous comedy or absurdity to alleviate the mood. This is not a movie to laugh or cheer at. It's brutal, it's raw, and it's uncompromising, but it's also thoughtful, deeply emotional, and rich in significance. Graveyard of Honour is further evidence of Takashi Miike's rare abilities as a filmmaker." – Midnight Eye, Visions of Japanese Cinema
"The premise of Graveyard of Honor—the rise and fall of a mad-dog gangster—is a familiar one, traced as early as The Public Enemy in 1931, if not earlier. What makes it different from most of its forebears (including White Heat [1949], both versions of Scarface [1932, 1983], and Kinji Fukasaku's own Graveyard of Honor [1975]) is that Takashi Miike works to avoid any intimations of a narrative arc. Instead of setting up a pattern of hubris and comeuppance, Miike organizes the film as an accumulation of detail, with a special preoccupation with how things work: the way yakuza from different families forge alliances, how a prisoner can give himself salmonella to get into the infirmary, how the body reacts to heroin. For all the instructive, caught-in-the-moment observation, though, it is a frighteningly amoral film, less an object lesson in criminal psychopathology than an attempt to meet that psychopath on his level." – MUBI
"It ends like a lot of Yakuza movies, but the trip from A to B is a wild, crazy ride. Ostensibly a remake of director Kinji Fukusaku's 1975 film of the same name, it is much more a re-imagining." – YakuzaFilm.com
131 minutes on 2 discs
HOW TO ORDER:
Public Performance and Digital Site Licenses are available through Soundview Media Partners. To inquire or to place an order, write to info@soundviewmediapartners.com or simply choose from the options below:
For group screening prices, please inquire.
In-home/personal use copies are available on Amazon: http://amzn.to/2dtLKww
WATCH THE TRAILER