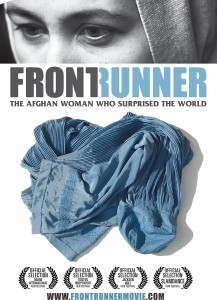 "No more heroes? In FRONTRUNNER you'll discover one living soul defying the greatest of odds in helping her people and country." – Peter Baxter, Programmer and Founder, Slamdance Film Festival
The setting: Afghanistan's first democratic election ever. In the aftermath of 9/11, America's military might had set the stage. But who determined the fate of democracy in Afghanistan?
"Vote for the mother," – Dr. Massouda Jalal shouts to the crowd.
FRONTRUNNER tells the heroic story of this medical doctor and mother of three. As a children's advocate, she defied the murderous Taliban regime. Now, she boldly ran for president as the only woman in a field of 17 candidates. In a dramatic turn of events, she held the fate of the country's first presidential election in her own hands.
Amidst death threats and bomb attacks, Jalal doggedly campaigned from the back of a taxi, in mosques, in homes, in busy markets and in the streets. Her courage shows that it's the dangerous work done by ordinary Afghans–women and men–that would determine the fate of a newly born democracy.
"FRONTRUNNER is the story of a woman who took the first fragile promise of democracy in Afghanistan, and dared to run for President. Her story is irresistible. Her courage is contagious." – Gloria Steinem
    Independent Film Festival of Boston (Boston, United States)
    Jackson Hole Film Festival (Jackson Hole, United States)
    Miami International Film Festival (Miami, United States)
    Newport Beach Film Festival (Newport Beach, United States)
    Slamdance Film Festival (Park City, United States)
    United Nations Association Film Festival (Stanford, United States)
    Wisconsin Film Festival (Madison, United States)
90 minutes on 1 disc / A film by Virginia Williams / Country of origin: Afghanistan / English, Pashtu, Dari w/ English Subtitles /  2008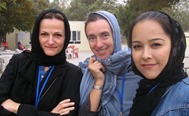 We call this photo the triple threat. From left to right, Virginia Williams, FRONTRUNNER's Producer and Director, Susan Bryant and Halima Kazem Co-Producers. This film took over 6 years of hard work by many talented people, with the generous support of a few foundation and individuals who believed in the story…
HOW TO ORDER:
Public Performance and Digital Site Licenses are available through Soundview Media Partners. To inquire or to place an order, write to info@soundviewmediapartners.com or simply choose from the options below:
For group screening prices, please inquire.
In-home/personal use copies are available on Amazon: http://amzn.to/2fQ2Cgi
WATCH THE TRAILER