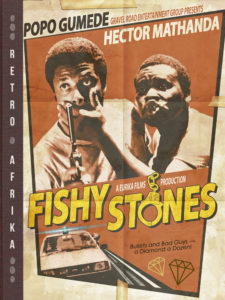 The second restoration for the Retro Afrika Collection Project has two thugs hide a stash of diamonds in the wilderness, where only two teenage boys can find them on their lucky day.
Part of a new project, the RETRO AFRIKA COLLECTION, is comprised of digitally-remastered classic Apartheid-era films, produced by and starring native South Africans. It pays homage to Hollywood action in groundbreaking B-movie style, a precursor to today's burgeoning Nollywood industry.
In FISHY STONES, a poorly-executed jewelry store heist finds two amateur thugs on the run from the cops. After a chase through the countryside, they desperately stash their loot in a clump of bushes, before they're apprehended and thrown in jail. Fast forward to two teenage boys, the best of friends, heading off into the wilderness and finding a bounty of hidden diamonds on their camping expedition!
Meanwhile, the two thugs make a daring escape from prison and, in a desperate search for their loot, pick up the trail of the two boys… who might need some saving.
Features Popo Gumede (Umbango), Hector Mathanda (Spice, Umbango), Mandla Ngoya (Isiboshwa), Hector Mathanda (Spice)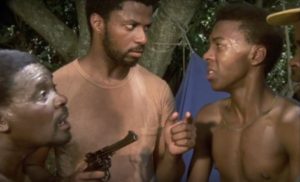 1990 / color / Zulu with English Subtitles / A film by Tonie van der Merwe (Umbango)
HOW TO ORDER:
Public Performance and Digital Site Licenses are available through Soundview Media Partners. To inquire or to place an order, write to info@soundviewmediapartners.com or simply choose from the options below:
For group screening prices, please inquire.
In-home/personal use copies are available on Amazon: https://amzn.to/2zYgW3g
WATCH THE TRAILER