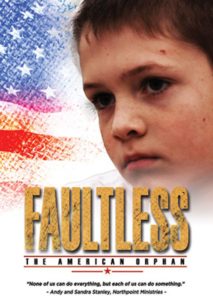 The average age of a child in the American foster care system is 9.7 years old. 30,000 children 'age out' of the system annually. According to Children's Rights, on any given day, there are nearly 428,000 children in foster care in the United States. In 2015, over 670,000 children spent time in U.S. foster care.
"None of us can do everything, but each of us can do something. This film challenges us, and encourages us, to respond to the Biblical mandate of caring for children in need. But, be careful, you just might fall head over heels for some kids who will change your life in the process!" – Andy and Sandra Stanley, Northpoint Ministries
Faultless: The American Orphan was created to inspire and equip Christ's followers to more deeply love and care for hurting children in America. The film introduces people to Christian orphan care in America by providing an overview of the challenges facing children in foster care, an introduction on how the Bible instructs us to act in light of those challenges, and some hopeful examples of men and women across the country responding to the present needs. "Faultless" is intended to be a resource for churches, Sunday school classes, small groups, family discussions, and anyone looking to further explore what Christianity Today called the "burgeoning Christian orphan care movement" taking place within the church in America.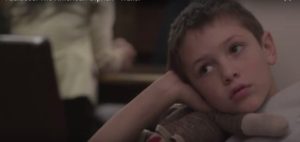 In addition to the film, the DVD includes a group discussion guide and educational information that will be helpful for anyone looking to learn a little more about the issue. "Faultless" was created by Unthinkable and Lavender Digital Media in collaboration with the Christian Alliance for Orphans and other leading Christ-centered ministries serving hurting children across America.
"An awesome DVD! It deals with orphans who are raised in foster care homes and those compassionate couples that wish to adopt them. Recommended for all ages" – The Dove Foundation
"Recommended. Faultless presents a clear look at a complex subject through interviews with adoptive parents, agency workers, church leaders, and the kids themselves." – Video Librarian
"Faultless: the American Orphan opened my eyes and my heart for the children in our foster care system." – Terry Meeuwsen, Director & Founder of Orphan's Promise, co-host of The 700 Club
44 minutes on 1 disc / Widescreen / 2013
HOW TO ORDER:
Public Performance and Digital Site Licenses are available through Soundview Media Partners. To inquire or to place an order, write to info@soundviewmediapartners.com or simply choose from the options below:
For group screening prices, please inquire.
In-home/personal use copies are available on Amazon: http://amzn.to/2uLJlp1
WATCH THE TRAILER