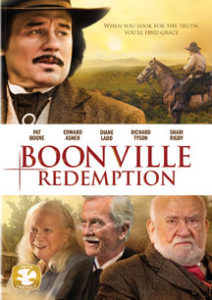 When you look for the truth, you'll find grace.
It's 1906 and 13 year-old Melinda is unhappy with the hand that life has dealt her. Born out of wedlock and scorned by many, Melinda desperately wants to know what happened to her real father, but no one will tell her.
Determined to do all within her power to find her father, Melinda's bravery compels some of the townspeople to reveal the dark secrets that they have kept to themselves for years.
Boonville Redemption is a contemporary example of a high quality independently produced faith-based film using a classic tale format to deliver its message. True to the western genre, the film ropes in numerous period related subjects including quilting, square dancing, horses, and more. It additionally ties into a book of the same name  which has received 5 Doves awards, while the film has received 4. There is a strong anti-domestic abuse message in the film which also carries a solid Gospel message of forgiveness and redemption.
The film is perfectly cast and stars living legend Pat Boone, multiple Emmy award winner Ed Asner, and multiple Academy award nominee Diane Ladd, Richard Tyson, Emily Hoffman.
""Boonville Redemption" is exactly what the title proclaims: a story of redemption. [It]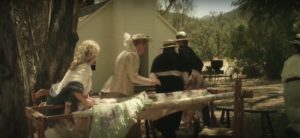 has a lot going for it. We are delighted to award the movie our "Faith-Friendly" Seal." – Dove Foundation
"Boonville Redemption is a beautifully shot film with authentic locations, wardrobe, and hairstyles" – Faith Flix
90 minutes on 1 disc / 5.1 surround sound / 2015 /
HOW TO ORDER:
Public Performance and Digital Site Licenses are available through Soundview Media Partners. To inquire or to place an order, write to info@soundviewmediapartners.com or simply choose from the options below:
For group screening prices, please inquire.
In-home/personal use copies are available on Amazon: http://amzn.to/2qfHaXK
WATCH THE TRAILER