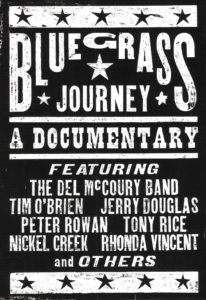 In the late '30s, mandolin player and bandleader Bill Monroe (see biography Father of Bluegrass) had the idea of merging the lonesome sound of classic Appalachian string bands with the speed and melodic force of the blues.
As Monroe put together a band that could play the new sound he heard in his head, a new musical style called bluegrass was born, and with the dawning of the 21st Century, the sound Monroe pioneered was not only alive and well, but gaining a whole new generation of fans, thanks to the success of the film O Brother, Where Art Thou?.
Bluegrass Journey is a documentary which offers a look at the history of bluegrass as well as a glimpse of its current stars as they perform for fans and jam with fellow greats.
Featuring some of the most celebrated practitioners of this traditional sounding but still evolving musical form, Bluegrass Journey presents a sonically rich and visually stunning portrait that often leaves viewers suppressing applause and cheers after each number.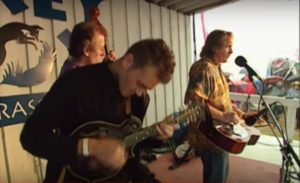 Musical performances by such bluegrass luminaries as the Del McCoury Band, Peter Rowan, Tim O'Brien, Tony Rice, Jerry Douglas, Rhonda Vincent, Nickel Creek, and many others, create an indelible impression that leaves no doubt about why this timeless music has exploded in popularity in recent years.
Features extensive footage from the 2000 Grey Fox Bluegrass Festival on the Rothvoss Farm in Ancramdale, New York.
"Bluegrass Journey explores both the music and culture of contemporary bluegrass with its crosscurrents of traditionalism and innovation, while also capturing the enthusiastic participation of its fans." – Project Muse
"This amazing program gives you a front seat for some of the greatest performers in the world of bluegrass music as they do what they do best. Don't miss it!" – Homespun
Exhilarating, joyous and rich, intelligent and timely, Bluegrass Journey will leave you wanting to hear more.
86 minutes / 2004 / English / A film by Ruth Oxenberg
HOW TO ORDER:
Public Performance and Digital Site Licenses are available through Soundview Media Partners. To inquire or to place an order, write to info@soundviewmediapartners.com or simply choose from the options below:
For group screening prices, please inquire.
In-home/personal use copies are available on Amazon: https://amzn.to/2YAavgC
WATCH THE TRAILER