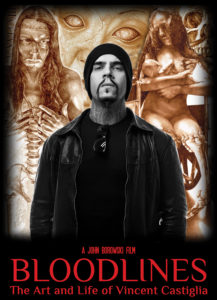 Not all art falls into a standard definition. The acclaimed and sometimes controversial work of contemporary artist Vincent Castiglia surely doesn't.
Vincent Castiglia paints surreal images in human blood. His haunting, beautifully surreal images portray human bodies and the human condition in abstract form. He began doing so as form of self-healing following a childhood of abuse and drug addiction.
From darkness, however, came light, and Castiglia's story is one of inspiration and hope, providing proof that art can heal and serve to inspire others.
A world renowned artist who had his first exhibition hosted by the legendary art H.R. Giger, Castiglia tells all, including the reasons why blood became his preferred medium. Award winning independent filmmaker John Borowski (H.H. Holmes: America's First Serial Killer) has directed and produced the feature documentary film which explores the works of Castiglia.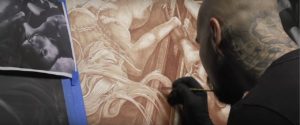 The film also delves into the process of how blood is safely drawn from the artist himself and his collectors, something Castiglia had to learn in the early days of the development of the unique art form.
Borowski stated, "This is a deeply personal film for Vincent and I am honored to have worked closely with him on the film. I feel many people will see this film as inspirational. Vincent's life journey, much like his art, reflects both the dark and ultimately the light that shines through the darkness."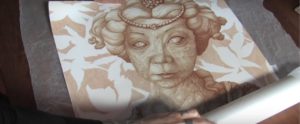 Margaret Cho, who commissioned Vincent to paint her portrait in her blood, is interviewed extensively in the film as are other celebrities including Gregg Allman (Allman Brothers Band), Damien Wayne Echols (West of Memphis), Kerry King (Punisher: War Zone) and Gary Holt of the heavy metal band Slayer, record executive Michael Alago, and numerous others.  The film also includes great footage from the Switzerland studio and museum of legendary artist H.R. Giger, who designed the iconic creature for the Alien movies.
Metal Injection called the film "A strangely inspiring story of overcoming adversity".
Film Threat wrote "There's something hypnotic about Vincent Castiglia's work, and Borowski does a great job of depicting Castiglia's tragic inspirations".
"Fascinating! An artist who paints in human blood? How cool is that?" – Pop Horror
The DVD version of the film features extensive bonus materials including: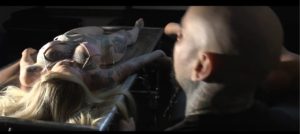 Extended Interviews with Damien Echols and Tom Gabriel Fischer
Tour of H.R. Giger Museum, Bar, and Ghost Train
Drawing John Borowski's Blood
John Borowski Visits Facebook
Production Photos Slideshow
2018 / 91 minutes / color / A film by John Borowski
HOW TO ORDER: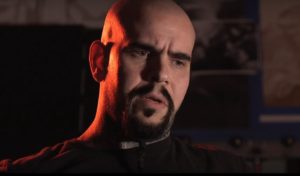 Public Performance and Digital Site Licenses are available through Soundview Media Partners. To inquire or to place an order, write to info@soundviewmediapartners.com or simply choose from the options below:
For group screening prices, please inquire.
In-home/personal use copies of the DVD are available on Amazon: https://amzn.to/2IroPAU. Prefer to stream or download? Visit https://amzn.to/2ROzVTV
WATCH THE TRAILER