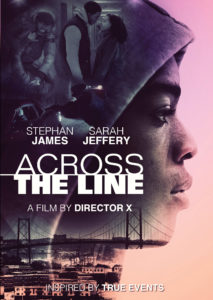 A young, black athlete living in a racially divided community finds his career prospects in jeopardy when tensions in his community come to a head. Inspired by true events, Across the Line takes a hard look at the serious issues of racism, violence, and bullying in contemporary life.
"HARD HITTING AND MOVING" – The Chronicle Herald
"PASSIONATE IN ITS DRIVE TO EXAMINE RACIAL FRICTION" – National Post
"Race showed us Stephan James could be a movie star. Across The Line mints him as an actor." -Norman Wilner, NOW Toronto
Stephan James (Race, Selma) is Mattie, a talented hockey player recruited by a top NHL team, but his plans are jeopardized by his hustling brother and the corrosive racial tensions in his community and at his school.  Sarah Jeffery (Shades of Blue) is Jayme, a beautiful but tough young lady of mixed race, who is standing squarely on the line and has to decide which of two cultures she belongs in.  Based on real events.
"Racial discrimination has always been a painful subject to talk about. Not to mention the torturous feeling you have to experience as you watch a film that touches the same subject. ACROSS THE LINE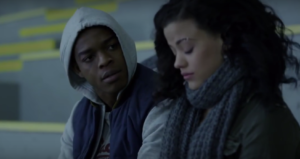 directed by Director X. brings us to North Preston, Nova Scotia, Canada's Largest Black Community where one hopes to rise above the prejudices, while the others try to clip the wings of the one who wishes to have a better life." – Canadian Film Festival Movie Reviews
"This film explores racism in a way that feels very unique. Stephan James is outstanding in his role, which only serves to bring the points of the film home even more. It's very powerful and does an amazing job of showing people who don't have to face racism on a daily basis just how incredibly difficult it can make even the simplest things become." – Toronto Film Scene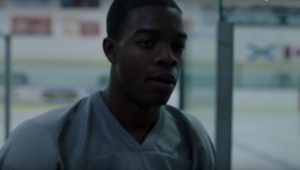 "X's strong visual storytelling skills carry the film home, and herald a promising big-screen career." – The Globe and Mail
"…makes a powerful study for black and white tensions" – Cinemablographer
A film by Director X (Rihanna, Drake, Kendrick Lamar) 
"…an emotionally-intense 86 minutes. X's direction is superb" – Mr. Will Wong Online
88 minutes on 1 disc / Urban Drama / English / 2015 / Closed Captioned for the Hearing Impaired / Available on DVD, Bluray or for digital licensing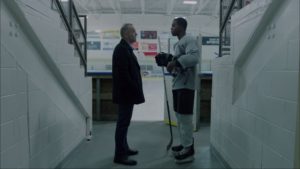 HOW TO ORDER:
Public Performance and Digital Site Licenses are available through Soundview Media Partners. To inquire or to place an order, write to info@soundviewmediapartners.com or simply choose from the options below:
For group screening prices, please inquire.
Watch the trailer