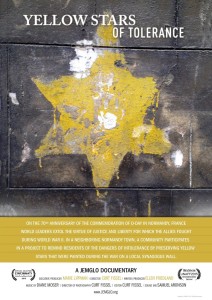 YELLOW STARS OF TOLERANCE documents a project to preserve yellow stars that were painted during the Holocaust in World War II on a synagogue exterior wall in Normandy, France to terrorize the local Jewish community. The intent of the recent preservation project is to serve as a testament to that terrible chapter of history and as a reminder of the dangers of intolerance.
While today the Jewish community is virtually gone from Elbeuf, the stars remain to tell their story. And sadly, the recent, tragic increase in anti-Semitism in France finds an outlet at this wall, giving the story current significance.
"The documentary is very moving. I am so pleased you made this film to document what was already becoming lost history." – Liebe Geft, Director, Museum of Tolerance, Los Angeles
"Highly relevant given recent occurrences in France" – American Jewish Historical Society
28 minutes on 1 disc / English and French w/English subtitles
HOW TO ORDER:
Public Performance and Digital Site Licenses are available through Soundview Media Partners. To inquire or to place an order, write to info@soundviewmediapartners.com or simply choose from the options below:
For group screening prices, please inquire.
In-home/personal use copies are available on Amazon: http://amzn.to/2afk1R8
Watch the trailer