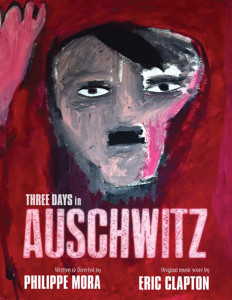 Award-winning film director, Philippe Mora and music legend Eric Clapton, who supplies an original music score, have joined forces to co-produce a very personal film which details life and death in the Auschwitz concentration camp.
The director's mother, Mirka Mora, avoided Auschwitz by one day. On his father's side many perished in the Holocaust. These facts triggered three visits to Auschwitz by Mora from 2010 to 2014 in an effort to understand and remember. Mora blends his art with a journey to the camp itself to recount his family's loss and survival at the hands of the Nazis in Auschwitz.
Official Selection: Oldenberg Film Festival, New Horizons International Film Festival
"…intimate, unconventional, highly personal, and furnished with a haunting Eric Clapton score that could help it to reach a different kind of audience" – The Jewish Chronicle
"Shortly before World War II came to a close in the spring of 1945, Eric Clapton was born. More than 71 years later, the rock legend has composed a score that revisits that tragic time in history." – Times of Israel
"A solemn and contemplative investigation into the infamous concentration camp, Three Days In Auschwitz is director Philippe Mora's personal journey into the past to discover what life was like for those trapped behind the razor wire during WWII" – Movies in Focus
"Mora really knows this topic through and through and is clearly an individual with talent. Three Days In Auschwitz is an achievement that it will bring many things to the table about Auschwitz beyond what has already been done in popular media and education. It makes the event tangible and evokes emotion in the audience on a subject that is otherwise too immense to feel anything real about." – The Film Magazine
58 minutes / 16×9 / 2015
HOW TO ORDER:
Public Performance and Digital Site Licenses are available through Soundview Media Partners. To inquire or to place an order, write to info@soundviewmediapartners.com or simply choose from the options below:
For group screening prices, please inquire.
In-home/personal use copies are available on Amazon: http://amzn.to/29gLGMd
WATCH THE TRAILER