Soundview's library includes three documentaries that look at different issues pertaining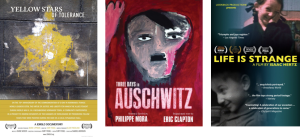 to the Holocaust. When purchased individually as DVD's with PPR, the value totals $615.00. When purchased as a 3-film collection, the total price is discounted by over 16%, a savings of $100. Digital Site Licenses are discounted by 10%.
Click the hyperlinks to read more about each film and/or watch the trailers. 

THREE DAYS IN AUSCHWITZ: Award-winning film director, Philippe Mora and music legend Eric Clapton, who supplies an original music score, have joined forces to co-produce a very personal film which details life and death in the Auschwitz concentration camp.
LIFE IS STRANGE: There was a time when they were children too… LIFE IS STRANGE evokes the vibrant life of Jewish families in pre-World War II Europe through childhood memories of Holocaust survivors. Intimate conversations with people from all walks of life are presented against a tapestry of rare footage that takes us into the heart of pre-war Yiddish culture, and portrays a universal experience of carefree childhood.
YELLOW STARS OF TOLERANCE documents a project to preserve yellow stars that were painted during the Holocaust in World War II on a synagogue exterior wall in Normandy, France to terrorize the local Jewish community. The intent of the recent preservation project is to serve as a testament to that terrible chapter of history and as a reminder of the dangers of intolerance.
HOW TO ORDER:
Public Performance and Digital Site Licenses are available through Soundview Media Partners. To inquire or to place an order, write to info@soundviewmediapartners.com or simply choose from the options below:
For group screening prices, please inquire.