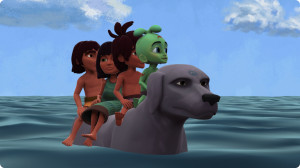 Raven Tales brings-to-life Aboriginal folklore for children and their families. A series of half-hour (24 min.), CGI-animated television programs developed by Chris Kientz and produced by Calgary-based New Machine Studios in partnership with Vancouver Artist and Producer Winadzi James, the series targets school-age children and their families, bringing North American history to life; teaching while it entertains and engages.
The extensive collection tells of the adventures of Raven, the most powerful deity of North American native mythology. Each episode features an original interpretation of a popular tale from the folklore of our First Peoples and addresses child-friendly themes like "be yourself," "don't judge a book by its cover," "bullying," "friendship," "beauty's on the inside" and much more, Raven Tales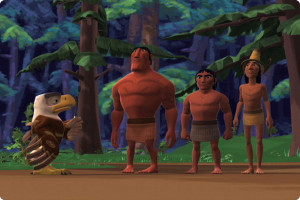 is a truly well-rounded program series for children of all ages. And… each episode has a corresponding Graphic Novel available to enhance the overall series impact and market exposure.
With a great cast of both animal and human characters, Raven Tales offers a continuity of storyline with friends that children can identify with… Raven, Dza, Gwai, Coyote, Seawolf and many more are all there to add dimension to each tale.
The critical response to Raven Tales has been overwhelming. Awards include, but are not limited to those below:
American Indian Film Festival, San Francisco/USA – Best Animated Film

Houston Worldfest, Houston/USA – Gold Remi

Montreal First Peoples Film Festival/Terres en Vue, Montreal/Canada – Creation Category, Best Picture

Reel to Real Children Festival, Vancouver/Canada – National Film Board of Canada Best Animated Film Award

Maori Film Festival/Wairoa, New Zealand – Best International Indigenous Film

Santa Fe Film Festival, Santa Fe/USA – Milagro award for Best Native

Santa Fe Film Festival, Santa Fe/USA – Governor's Cup for Animation

ImagineNative Film Festival, Toronto/USA – Best Television Production

Native Voices Film Festival, Rapid City/USA – Best Animated Film

All Roads Film Festival, Washington D.C./USA – Best Animated Film

Winnipeg Aboriginal Film Festival, Winnipeg/Canada – Best Animated Film

Margaret Mead Film Festival, New York City/USA – Best Animated Film

Santa Fe Back by Popular Demand Festival, Santa Fe/USA – Best Animated Film

Newport Film Festival, Newport/USA – Kids First! Best Animated Short Film Award
"Amazing animation is bolstered by a story both funny and  poignant… highly recommended for children of all ages." –  USA Today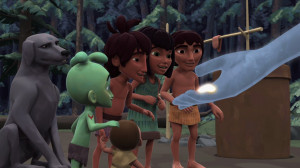 "The most extraordinary and delightful film at this year's Smithsonian Native Cinema Showcase is the animated Raven Tales: How Raven Stole the Sun. The results are dazzling; the animals are stunning, their forms based on the totems and renderings from Native Cultures, and the colors of their dreamscape environment are natural and fresh."  – Crosswinds Weekly
Two Complete Seasons Available / Over 10 Hours of Great Programming:
SEASON ONE (13×24) of Raven Tales includes the multiple-award winning pilot episode, How Raven Stole the Sun. The inaugural season was completed in two production runs during 2006 and 2007 for the Aboriginal People's Television Network (APTN) and Access.
In season one, the pilot characters where rebuilt and the world expanded to include the First People (episode 02). Many new characters were introduced including the Great Spirit, Wasgo the Sea Wolf, Coyote, Mother Toad, Moowis the Snowman, Kulos, Mouse Woman and the Council of Forest Creatures. The people discover medicine in episode 10, while the great flood is featured in episodes 11 and 12. The AMPIA Award-winning Episode 13: The Rough Face Girl, is the first episode to be completed in HD.
SEASON TWO (13×24) of Raven Tales includes the Emmy-nominated episode, Baby Blues, and is comprised of two production runs during 2008/2009 for the Aboriginal People's Television Network (APTN). Most significant for season two is that the production pipeline for the show was upgraded so that Raven Tales could be experienced in glorious high-definition (HD) resolution!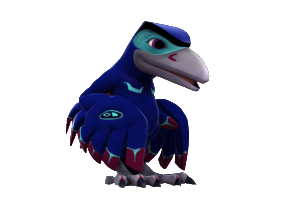 New characters continued to be added to the cannon, including Great Bear, Bukwas, the return of the Old Man and his Daughter from the pilot, Spider and S'gaana the Killer Whale.  
Season two also saw the introduction of tales from south of the border, including episodes inspired by the Pueblo, Navajo, Comanche and South American Aboriginal traditions.
 Preview the episode MUSICIANS OF THE SUN at https://vimeo.com/101554383 (use pw Soup2nuts!)