"Gripping document
ary filmmaking. A treacherous and amazing feat that must be seen to be appreciated." -NBC
"A gripping and intimate look at what it takes to reach the top of the world. A mix of high adventure, low temperatures and a poignant warning." –Huffington Post
"It takes you deep into the stark reality of an expedition to this vanishing place in a way rarely seen on film. Pay attention, this is an important film!" –Ridley Scott
"****Boldly going where few film crews have gone before, filmmaker Sebastian Copeland's extraordinary documentary was filmed using a handheld video camera as two men walked 400-plus miles through the Arctic Circle to the North Pole…It is something to behold…Brimming with sights and sounds that not many have witnessed, this exciting chronicle of an incredible journey is highly recommended. Editor's Choice." – Video Librarian
Two men embark on a dramatic expedition to the North Pole, widely considered the toughest on Earth. For over two months they journey 400 plus miles on foot facing harsh temperatures to below 50 degrees F. From their intensive training to the expedition s successful completion, Into the Cold is a bone-chilling story of true bravery, incredible courage and unrelenting determination. As magnificent as it is inhospitable, the polar ice is rapidly vanishing; a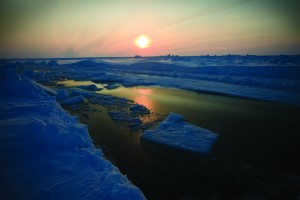 journey on foot to The Pole may never be possible again.
A true life, multiple award-winning adventure film, filmed in HD, debuted at The Tribeca Film Festival. Sebastian Copeland and Into the Cold have been featured in and on Vanity Fair, CNN s Larry King, ABC, NBC, ESPN, NPR, PBS News Hour, Sierra Club, National Geographic, Men s Journal, USA Today, Discovery Channel Online, Treehugger, Huffington Post, People Magazine, W and more.
Features cameo by Leonardo DiCaprio.
Packed with award-winning photography by Sebastian Copeland.
87 minutes on 1 disc
HOW TO ORDER:
Public Performance and Digital Site Licenses are available through Soundview Media Partners. To inquire or to place an order, write to info@soundviewmediapartners.com or simply choose from the options below:
For group screening prices, please inquire.
IN HOME/PERSONAL USE COPIES AVAILABLE ON AMAZON: http://amzn.to/2lsFzLa
Watch the trailer…